With cannabis legalization in full force, knowing how to roll a joint properly could be helpful. Smoking a joint might be simple, but that doesn't mean that knowing how to roll a perfect joint is easy! So if you're still figuring out how to roll a joint, we're here to get you started. We'll walk you through all the steps and make learning how to roll a joint easily. You'll be smoking your excellent joints before you know it. Cannabis Ontario is here to help out, so let's get started.
Why Rolling A Joint The Right Way Is Important 
Smoking a joint is one of the most acceptable ways to enjoy cannabis. There's a reason why joints are the traditional method for smoking pot. Once you learn how to roll weed, you'll join billions of other people who've experienced the true feeling and flavour of the flower. If you love cannabis flowers, you should learn how to roll a joint on your own.
You can find many tutorials on how to roll a joint step by step online. There are lots of different methods, including some very fancy but impractical techniques. Don't worry about showing off with your joints. It's much more helpful to learn how to roll a perfect joint than to roll one that looks cool. Start with the traditional rolling methods for the best, most reliable results.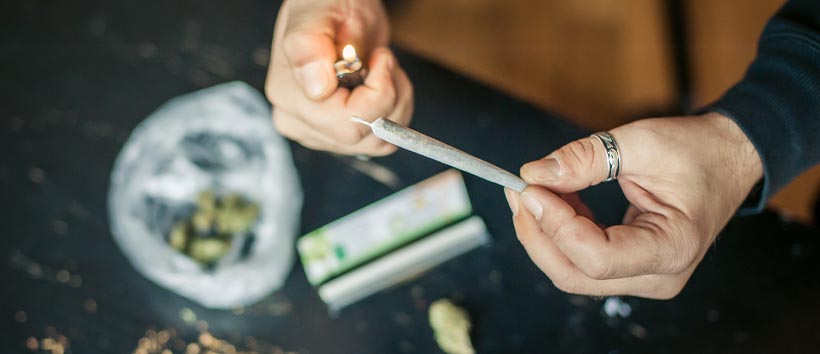 Let's Look At The Easiest And Most Convenient Way
When you're learning how to roll a joint, you should start with 1/2 grams of weed. That is the perfect amount for an 11/4 rolling paper, which is considered a standard rolling size. Other sizes of rolling paper are also available but don't worry about those yet. Once you learn how to roll weed in this method, you can easily craft joints big enough for a couple of people to share.
Gather these supplies to learn how to roll a joint for beginners:
Don't forget your favourite flower! You'll need a choice of cannabis strains for a great experience. Once you have all your materials, let's see how to roll a joint step by step.
1. Choose Your Paper
Select your favourite rolling paper for your joint. Many users learn how to roll a joint with Zig Zags, but you can choose from a variety of great sizes and options. Whatever brand you prefer, we suggest working with thin rice or wheat paper. These materials are solid choices because they burn slowly and evenly. Once you learn how to roll weed, you don't want all your hard work burning away before you can enjoy it.
You should also consider what flavour your rolling paper brings to the table. Yes, rolling papers can change how your joint tastes. When you're learning how to roll a joint with Zig Zags, you should take your time and pick a rolling paper you enjoy. If you are rolling joints on the go, think about purchasing a rolling paper protector to keep your materials in good condition.
2. Grind Your Flower
Next, it's time to grind your flower to the perfect consistency. If you're wondering how to roll a joint easily and fast, remember that your weed's texture plays a big part in your success. Your pot should have a nice crumbly texture with no stems for the best results. 
A grinder is an ideal tool for breaking down your pot. Grinders protect you from sticky hands, which make it hard to control your rolling papers. If you don't have a grinder, you can try other sharp tools like scissors or knives. If you're out of options, you can use your hand in a pinch.
After you grind your weed, you might see some leftover powder at the bottom of your grinder. That is probably kief, which is full of THC. Make the most of your kief by adding it to your joint or putting it back with the rest of your pot for later.
3. Add A Filter
Filters are optional, but they can give you a more pleasant smoking experience. A filter keeps tiny pot particles out of your mouth. If you're curious about how to roll a joint with a filter, remember that your filter thickness will impact your joint's thickness. Thick filters need a thick joint. On the other hand, you'll have a narrow joint when you're using a thin filter. It's all up to your preferences.
If you're adding a filter to your joint, simply place the filter at one end of your rolling paper to get started.
4. Filling The Paper
Are you ready to learn how to roll a perfect joint? Now's when the fun begins! First, put your rolling paper on a flat surface. A table is ideal for beginners, but you can also use a tray, a magazine, or another smooth surface. If you're using a filter, be sure it's on one end of the paper.
Next, stuff your paper with the weed. When you fill your rolling paper, it should look even. You don't want the joint to be fat or overstuffed in the middle or anywhere else. Even filling is one of the best strategies for how to roll a joint if your joint looks uneven, just back up and start over. You'll learn how to roll a joint for beginners with some practice and patience.
5. It's Time To Roll
The best joints are tight and cylindrical. Beginners can get these results by holding the joint on both ends. Then, simply squeeze and rub your fingers up and down the joint to create a tight, even roll. Again, your filter is a good guide for how wide your joint should be.
You'll have an easier time rolling joints when you wrap the paper tightly around the filter in the beginning. Try to focus on this step and make your filter seal perfect. That will help the rest of your joints come together quickly.
Don't stress if your first joint doesn't look amazing. Rolling a joint is a new skill, one that almost everyone needs time to practice. So just follow these steps and keep practicing. Before you know it, you'll be a rolling expert.
6. Lick And Fire
The hard work is over. All you need to do is lick the glued side of the paper, then seal your joint. Once you've done this, tap the filter or bottom side of your joint on your work surface. You can also press your pen into the other side of the joint to pack in all the material.
Twist the extra paper at the tip of your joint, and you're ready to go! Sit back and take a moment to admire your first rolled joint, then light up and enjoy.
In Conclusion on How to Roll a Joint
There are many ways to roll a joint, with some being complicated and some being simple. But the most important thing is to make sure you get quality cannabis, or it doesn't matter how nice your joint is. So save big now when you buy bulk weed in Canada and order online from places listed on sites such as BC Weed Delivery.
References