The cannabis plant has many pretty useful parts. Among them is Kief which comprises trichomes. But what is Kief exactly? This sticky and small substance is highly potent and great for making Kief's joints. 
It's common to dismiss the tiny remnants on the third chamber of a grinder. But adding just a little to your joint gives you a better kick. Different ways of extracting Kief (dry sift) from plant material exist. 
Here, you can learn all about Kief, how it's extracted, and its uses. Cannabis Ontario will also explain how to make dry sift at home and make suggestions on where you can buy Kief online in Canada.
Kief Meaning: What is Kief (Dry Sift)
Kief has become common in Canada as a result of weed legalization. There are still stringent rules that govern the use of products from the cannabis plant. However, cannabis consumers can access all sorts of products, including Kief. 
What is Kief? This is a cannabis product you get when trichomes dry up and break apart from the cannabis plant. This plant contains different compounds of interest, such as Terpenes, Trichomes, CBD, and THC. 
The trichomes resemble small crystals and have a lighter colour. The resulting Kief is darker and can appear to be anywhere between golden and brown. Kief (dry sift) is obtained by drifting trichomes from the cannabis material. 
This sticky powdery substance remains at the bottom of a grinder. Grinders are simple instruments you can use to break down cannabis into smaller particles. At the bottom of the grinder is a Kief catcher, a smaller separate chamber. 
There are two main uses of Kief that collect at the grinder's bottom, and they include:
Adding to a joint to make it have more kick. 

Pressing Kief to dry sift hash. 
Always go for the light-colour dry sift when shopping in a dispensary. This is purer and more potent than darker stuff. Often there are loads of plant material mixed in dry sift. It's better to go for lighter colours to make store-dry sift hash. 
How is Kief Extracted? 
Kief comes from the plant material of the cannabis plant. There are several ways to extract dry sift before adding it to a Kief's joint. The dry sift is also great for hash production. The hash you get depends on the extraction method and quality. 
1. Dry Sifting (Silk Screens)
Silkscreens are an easier way of making dry sift from plant material. Usually, it's laid down on the silkscreens, covered, pounded, and shaken to release trichomes. 
The trichomes are small enough to pass through the dry sift screens. Dry sifting using silk screens with smaller holes ensures trichomes fall with a higher potency. 
2. Grinding with a Grinder
Another simple method of making dry sift is by using a 3-chamber grinder. Most folks can use this simple tool that's fairly easy to use to make dry sift at home. Trichome extraction is straightforward with a grinder since the 3rd chamber holds the dry sift. 
3. Dry Ice
The third way to extract dry sift from plant material is dry ice. This method suits folks in a colder environment with access to the source material. Canadians can line up cannabis buds in a clean bucket with dry ice. 
Next, add bubble bags with strong mesh material at the top of the bucket. Turn the bucket upside down and shake vigorously so the trichomes fall off. You can line a parchment paper on the work surface to catch the trichomes. 
4. Solvent Extraction
Industrial dry sifting involves using solvent extraction to obtain trichomes from flower rosin. A solventless process is always an option if you'd rather avoid the chemicals involved. However, the potency of dry sift you get using this process is higher. 
Producers use carbon dioxide, butane, and propane to make dense, thick, and purified cannabis oil. When this product dries up, the result is a product known as shatter. 
Does Kief Get You Higher than Bud?
When it comes to potency, Kief has a higher strength than bud. The dry sift from plant material often contains a higher concentration of psychotropic cannabinoids and THC. 
The major producers of psychotropic cannabinoids and THC in cannabis plants are trichomes. This means the dry sift at the grinder's bottom is more potent than the bud. Folks prefer adding the dry sift to a Kief's joint to make it have a bigger kick.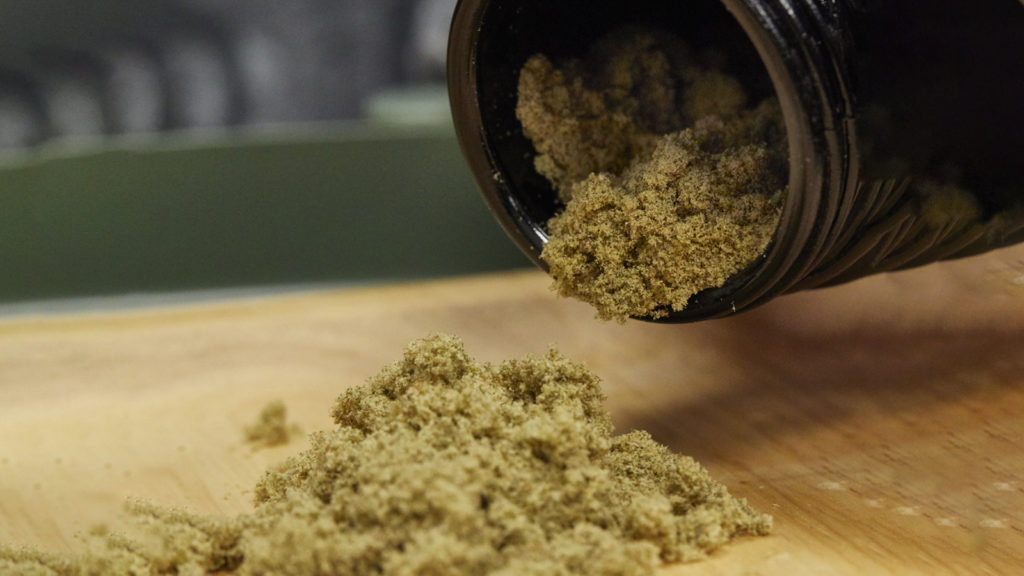 Benefits of Kief
The best benefit of dry sifting is obtaining a more potent dry sift. Since the dry sift has no plant material, you get a smoother and more potent kick from your Kief's joint. 
There's a higher concentration of THC and cannabinoids in Kief, which has many uses. The less plant material there is in dry sift, the more potent it is. 
Making Dry-Sift Hash
Are you wondering what to do with Kief? The dry sift is ideal for making dry sift hash using a pressing method. If you want to make dry sift hash, all you need is heat and pressure. Fetch a small piece of parchment paper, add the dry sift, and roll it. Add a layer of newspaper to the rolled parchment and wet it a bit. Make sure the newspaper is damp and not soggy. 
Place your iron to low heat, and hold it on the newspaper containing parchment paper with the dry sift. Turn the paper, and heat it on the other side. Keep repeating the process until the newspaper is completely dry. 
Unroll your newspaper and parchment paper, and you'll have a good piece of hashish. It's most likely black or brown. The less plant material the hash contains, the more potent it is. 
In terms of dry sift vs. bubble hash, dry sifting is a somewhat easier process than producing bubble hash. With dry sifting, you use sift screens, but with bubble hash you work with water, ice, and bubble bags. 
How to Decarboxylate Kief
Did you know it's possible to use the dry sift you get from dry sifting to make edibles? The high THC content of dry sift makes it a better option for making edibles than flower rosin. This is one of the best ways to enjoy highly potent products and treats. 
However, before you use dry sift from the bottom of a grinder to make edibles, you have to decarb it. Decarboxylation is a process used to turn THCA into THC using chemicals. Usually, THCA in plant material has no psychoactive effect. After lighting a joint, the chemical process to turn it into THC begins. 
As for dry sift, you only need to heat it, preferably in an oven. Place the dry sift in an oven tin and heat it at 210°C for 30 minutes. You can mix the dry sift into your edibles and bake them in the oven.
Where to Buy Kief Online in Canada
In Canada, buying Kief (dry sift) online is possible. Always check the product's potency before purchasing cannabis concentrates from an online dispensary. Buy from a reputable company that has positive reviews from its customers so that you know you are getting good quality cannabis kief. We recommend checking out Happy High Kief, a brand that makes different strains of Kief that all pack a powerful punch. You can also get same-day Kief delivery in the Toronto area if you want to try Kief right away. Weed delivery services deliver discreetly and quickly straight to your door. Let us know all the different ways you use kief in the comments down below!
References
Leafwell. What Is Kief, and Should You Use It?. Available at: https://leafwell.com/blog/what-is-kief-and-should-you-use-it/
Ry, R. (2016, January 1). What the Hell Is Kief, Exactly?. Thrillist. Available at: https://www.thrillist.com/lifestyle/nation/what-is-kief-what-to-do-with-it-and-how-to-smoke-it
Acreage Pharms. WHAT IS KIEF AND HOW DO YOU USE IT?. Available at: https://acreagepharms.ca/kief-what-is-kief/

Natural Care. (2018, September 20). How THC works. Natural Care Group. Available At: https://naturalcaregroup.com/how-thc-works/
Get Kush. (2022, November 19). Best Online Dispensary Canada | Buy Kief Online. Available at: https://getkush.cc/product-category/concentrates/kief-dry-sift/

Weed Delivery Vancouver. (2022, November 19). Same-Day Kief Delivery in Vancouver. Available at: https://weeddeliveryvancouver.io/product/happy-high-kief-jars-14g/

Highest Farmacy. (2022, November 19). Get Timely and Reliable Same-Day Weed Delivery in Toronto and Surrounding Cities. Available at: https://highestfarmacy.com/product-category/concentrates/kief/